Two phrases have been repeating themselves in my head a lot lately: actions are decisions, and the illusion of control. The latter has a way of disrupting the former, and I've been trying to come to terms with their inevitable intersection.
If that seems needlessly obscure, let me rephrase.
I'm working on being more conscious about how the things I do on a micro, day-to-day level have macro-scale results (e.g.: working out, writing). The way we spend our days is the way we spend our lives, and all like that.
And at the same time, I want to remember that there will always be curveballs lobbed, spanners in works, and shit intersecting violently with fans. I know I can't plan for everything that will affect my ability to accomplish what I want to accomplish — as much as I would really, really like to!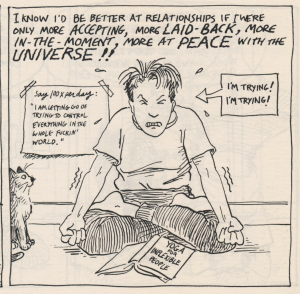 (N.B.: If you know me In Real Life and are under the impression that I actually am laid back, don't be fooled! That just means I'm doing a swell job on my mellow façade.)
But at least I can anticipate that there are gonna be things I can't anticipate, right?
Y'all out there, when estimating your schedules for large projects like, say, writing novels, how do you build in time for dealing with all the things that get in the way of DOING ALL THE THINGS?