Every so often — the last time was in 2009 — I write about a book that was important to me as a kid and/or teen.
Not long ago I was in a used bookstore that, had it not been for the price tags and the register (barely discernible behind stacks of books), could have been mistaken for a hoarder's, well, hoard.
It was overwhelming in the best possible way, especially when I managed to navigate the treacherous stairs to the childrens'/YA section and found Cat In The Mirror, in the paperback edition I'd checked out multiple times, but never managed to acquire, and then I'd forgotten the title.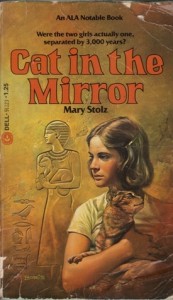 Cat In The Mirror belongs to the New York Apartment School of 1970s YA, subcategory: Fancy. The protagonist, Erin Gandy, is growing up with significant privilege, but she's unhappy in the brownstone where she spends more time with Flora, the family housekeeper, than she does with her parents.
It was one of the first books I read where the protagonist actively dislikes a parent. From what we see of Erin's self-centered, image-obsessed mom, Belle, this dislike is understandable. Erin's dad, meanwhile, is her favorite person — a thoughtful, kind, but somewhat oblivious Egyptologist manqué (I remember learning the word manqué from the book) whose actual business job necessitates a lot of travel. So the family's moved around a lot.
Some kids adapt well to a nomadic lifestyle. Erin emphatically doesn't. Her habit of filling her cheeks with air, like Dizzy Gillespie sans instrument, gets her the nickname of Blowfish. She vacillates between hiding from the popular kids and trying to take part in their conversations. Neither strategy is successful. The precise way the popular kids bully her — seeming briefly to include her in their charmed circle, and then viciously pulling the rug out from under her — felt absolutely true when I first read it, and still does.
But I don't think I'd have imprinted on the book if not for what happens more than halfway through. At the Metropolitan Museum of Art (an important setting in another of my and so many other people's favorites, The Mixed-Up Files of Mrs. Basil E. Frankweiler), Erin hits her head and wakes up, sort of, as Irun, in ancient Egypt.
'Sort of' because Irun seems to have been living her life before Erin showed up in her head, and yet she's also, somehow, a version of Erin, living among people whose names and personalities echo those belonging to people in Erin's twentieth-century New York life.
When I read the book as a kid, I didn't get caught up in the hows and whys of the parallels. I didn't worry about whether she'd actually gone back in time or if she was having accident-related delusions. I just utterly loved the idea that there could be someone in the impossibly distant past who was, kind of, you.