April — whether it will be the cruelest month is yet to be determined, but it's definitely the most packed with travel & events so far in '09!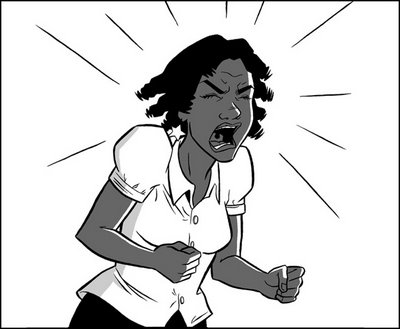 April 3-5th: I will ride the train up to Seattle for the Emerald City ComiCon and the debut of Flytrap #4, Performance Anxiety!
April 18-19th: I will drive my car to Lloyd Center for the Stumptown Comics Fest. I'll totally have more copies of Flytrap #4 and the other minicomics, and paperbacks of The Rules for Hearts. I'll even have a few copies of Comic Book Tattoo. It's true. (Actually, I will have all those things at Emerald City, too.)
April 20-21st: Oregon Book Awards Author Tour!
Corvallis Public Library
April 20, 2009 at 7:00 p.m.
645 NW Monroe Avenue
Corvallis, OR
Newport Public Library
April 21, 2009 at 7:00 p.m.
35 NW Nye Street
Newport, OR.
The reading features:
Neil Browne, finalist in nonfiction for THE WORLD IN WHICH WE OCCUR
Ehud Havazelet, winner of the Ken Kesey Award in fiction for BEARING THE BODY
Sara Ryan, a co-winner of the Leslie Bradshaw Award for young adult literature for THE RULES FOR HEARTS
Also I will be doing a writing workshop at Newport High School in the afternoon on the 21st, for some of Matt Love's students. I'm really looking forward to that! (And everything else, too, of course! But doing writing workshops is cool in a different way than other types of events.)
Also also: at the beginning of the month I will be at the Oregon Library Association conference, speaking a couple of times in a librarial capacity. But hey, if you're going to be there and you have a book you want me to sign, I would be delighted to do so!
In between? I'm putting myself on lockdown, people.