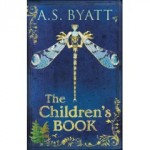 For various reasons, I couldn't wait for the U.S. edition of A.S. Byatt's The Children's Book, so I bought the British edition, with this gorgeous cover. I have just started to read it. You can listen to an audio interview with Byatt about The Children's Book on Australia's The Book Show, a new favorite source of literary listening for me. And here's a bit that struck me:
She didn't like to be talked about. Equally, she didn't like not to be talked about, when the high-minded chatter rushed on as though she was not there. There was no pleasing her, in fact. She had the grace, even at eleven, to know there was no pleasing her. She thought a lot, analytically, about other people's feelings, and had only just begun to realise that this was not usual, and not reciprocated.
I know, I know, resist the lure of presumed autobiography. But that paragraph felt very familiar, and it made me wonder if she was like this character, Dorothy, at eleven. I know I was.
Speaking of being eleven, don't forget that What A Girl Wants launches tomorrow at Chasing Ray!