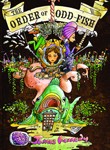 While I read James Kennedy's The Order of Odd-Fish, I thought of the following authors: Norton Juster, T.H. White (especially King Pellinore and the Questing Beast in The Sword in the Stone), Daniel Pinkwater, and James Thurber. It also brought to mind Dr. Horrible's Sing-Along Blog and Quentin Crisp, who would have made a fabulous Sefino.
Here's a short excerpt to give you a bit of the flavor:
"…the Appendix isn't known for its accuracy," said Aunt Lily. "Accuracy isn't the point."

"'It is an Appendix of dubious facts, rumors, and myths,'" recited Colonel Korsakov. "'A repository of questionable knowledge, and an opportunity to dither about.' That's from our charter," he said to Jo. "The bit about dithering is the most important. We are a society of ditherers."

"Dithering?" said Jo.

"You know — fiddling about, puttering, loafing. The Order of Odd-Fish has a long and distinguished history of dithering. Sir Oliver is the world's foremost authority."

"Oh, I wouldn't say that!" protested Sir Oliver.

"He wrote a six-hundred-thousand page dissertation on dithering," said Aunt Lily. "Puttering, Muddling, and Mucking About: An Inquiry into Idleness. Quite well known in the field."

"I make no claims," said Sir Oliver. (p. 85-6)
And here's a paragraph from Kennedy's excellent essay, "How To Be Irrelevant":
The ability to get distracted is an easily misunderstood talent. Irresponsibility might be a secret virtue. Throughout grade school I left many stories unfinished; in high school I half-programmed a lot of computer games; in college I co-wrote a musical, but even though we got a cast together and rehearsed it, it was never properly performed. Yet I learned a lot by being undisciplined. Someone once wrote, "If a thing is worth doing, it is worth doing badly." Yes – and I'd add that if something is worth doing, it is also worth doing halfway and then quitting. It's also worth brooding over, and making lots of plans, and then going off and doing something else. Having many little interests, amateur enthusiasms, and failed ambitions creates a rich stew out of which you can boil fresh ideas.
I recommend The Order of Odd-Fish to members of secret societies and others, and am eager to see what Mr. Kennedy will come up with next.