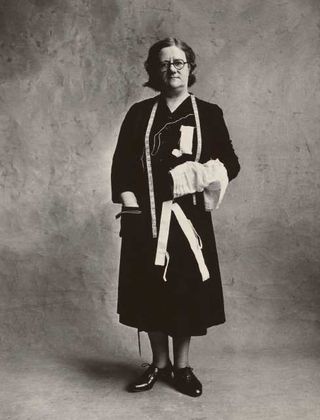 As I mentioned, while I was in Los Angeles, I went to the Getty. Twice, actually. The second time, I saw Irving Penn: Small Trades. It's an amazing exhibit: over 200 photographs, all portraits of people with the tools of their particular trades: chef with knife; seamstress with tape-measure, needle & thread; cobbler with bench and shoe. My favorite, undoubtedly self-described occupation was "Window Washer and Bohemian Poet." And trust me, he looks it. He wasn't my favorite person, though. That would have to be the lady wrestler, solid and lovely, straight out of a Jaime Hernandez panel.
The name of the show kept repeating itself in my head, and eventually it struck me that the trip itself was a small trade. For a small amount of time, we traded in our usual lives for a rarefied Hollywood variant. The trade came with a quick expiration date. Wednesday night, a towncar picked us up from the hotel to take us to the premiere, where paparazzi did in fact yell to attract Steve's attention. Thursday afternoon, we struggled to schlep suitcases and boxes to a comic shop, where Steve spent three hours offering free sketches in hopes that someone would buy a book.
The Small Trades photographs are notable in part for the way Irving Penn equalized his subjects, giving as much dignity to a sewer worker or a Pullman porter as he did to the celebrities that he shot for Vogue. A street sweeper on his way into Penn's studio may have passed a fashion model on her way out.
Our small trade was an exercise in recognizing hierarchies. At the movie, our seats were in row Z. At the party, we couldn't sit on the couches until they were vacated by more important guests. I'd like to say this made us aware of how essentially irrelevant we were to the enterprise, and it did. But it also made us cling to the privilege that we'd been temporarily granted. Entitlement creeps up on you. We got off the plane in Portland late Thursday night, and looked around for the driver who'd get us home in Warner Brothers' last contribution to our trip. Couldn't spot him. Waited a while, then Steve called the company. Turned out that the driver was waiting across from baggage claim, in the area where reserved cars are allowed to park. In the moment before I caught myself, I was irritated that we'd have to carry our bags All The Way Across The Street.
So I'm glad for the opportunity to make the trip — made possible by yet another small trade, or trade paperback, to be precise — but even gladder to be home.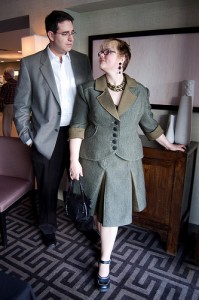 Thanks to Lori Matsumoto for the photos and to Miriam Chin for making my suit.