I'm sitting in a coffeeshop across the street from the comics shop where Steve is signing EVEN NOW, so I thought I'd take a few minutes to share the following:
1. Not everyone dresses up for a premiere. By a long shot. (Though, according to Eddie, the distressed jeans worn by many probably cost several hundred dollars.)
2. But I was still glad I did.
3. There are no previews.
4. As I tweeted: Popcorn is free!
5. Actors are mostly shorter than you'd think.
6. A Hollywood party is not entirely dissimilar from other parties where there are a lot of people you don't know, and some of them look vaguely familiar.
7. However, unlike other parties I have attended, there is a hierarchy of seating. We spotted what looked like available space on one of the couches, only to discover that it was within the Beckinsale perimeter and thus off-limits.
8. Not everyone is young, but nearly everyone dresses as though they are.
9. L.A. is really sunny. Frighteningly so for a Portlander.
10. The fanciness of a hotel does not preclude its walls being thin.
Here are Greg and Steve on the white — not red — carpet. (What I love about this shot is how they both appear to be leaning notably to the left.)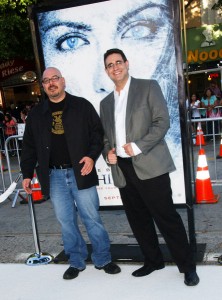 And here I am inside the lobby:
And Greg took this one (which, as he said, looks like a surveillance photo) shortly before the film started: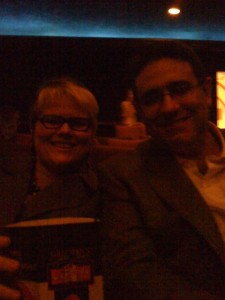 Possibly more pictures to come, but I must disappoint those hoping for candid celeb shots: we didn't take any at the after-party.  (No one else was. It would've been weird and stalkery.)