Happy 2010, Internet friends.
Here's something I wrote in my journal ten years ago:
I read a book of Susan Cooper's essays on writing for children; a book I'm going to have to buy. In thinking about the themes that come up over and over again in the way she talks about writing, I'm wondering what my own themes are, what questions I want to struggle with in my work. What friendship is, what love is, how you tell them apart…Now that I know my first book is getting published, I feel confident about starting to map out a life in writing in a way that I never have before.
Did I? I guess I have, and I am — but it's hard to recognize when you're in the middle of it. I'm most aware, always, of what I haven't yet done, what I feel I should be doing. A bit further on in that old journal, I wrote that I hoped to reduce my hours at the library, so I'd have more time to devote to writing. I knew I'd been thinking about that idea for a while, but it's slightly disconcerting to realize that "a while" is now a full decade.
Ten years ago my website looked like this: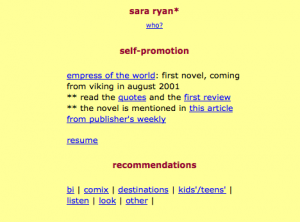 Of the people whose sites I linked on my "destinations" page (we had links pages before there were blogrolls, kids), I've fallen out of touch with five, two have changed gender identity, two have kept the same web domains for the entire 2000s, and five were among those ringing in the new year at my house last night.
I wonder what we'll all be doing in 2020? (Aside from wincing at the inevitable plethora of references to "2020 vision.")