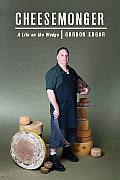 I've been wanting to write about Cheesemonger by Gordon Edgar since I finished reading it, shortly after Gordon's event at the ever-awesome Reading Frenzy.
First off, read Cheesemonger if you like:
Punk.
Cheese. (Duh.)
I am a fan of all three, and also of Gordon, so I was expecting to really enjoy this book, and I did.
I didn't expect to find passages that would resonate especially strongly for folks who work in public libraries, but guess what? They're there.
A couple examples:
Figuring out what customers want is mostly about identifying what they already eat and suggesting something familiar, but with a few different characteristics. (Sound like reader's advisory? I thought so.) This cheese journey and experimentation is based on consent, of course. If you want to eat Fromager d'Affinois every day for the rest of your life, I'll be happy to sell it to you. It's a wonderful factory-made, mild Brie that will never challenge you, but will be consistently satisfying. A not-so-famous ex-punk-rocker buys only a $1.50 piece of Domestic Muenster every week, and he's one of my favorite customers. (Just replace cheese names/descriptions with titles, authors, and/or genres.)
…

I have been called upon to look at pictures, to help read official government letters, to admire new purchases from nonfood stores, and to offer my opinion on many subjects about which I know little. […] The government has privatized social service into unacknowledged places. It helps retail workers stay sane if we start looking at the bigger picture and see ourselves as front-line social service workers. […] We end up doing a lot of the things necessary for these people to remain more or less functional: provide human contact, help with basic survival issues, and help them navigate the world. We might as well acknowledge it. (No translation necessary.)
So yeah, it's about cheese. And community. And politics.
But don't worry — it's also really funny.
BTW, while writing this post, I was gnawing on Bravo Farms Chipotle Cheddar.