Shelftalkers, in case you do not know this term of art, are those little pieces of paper you see attached to shelves  in bookstores and some libraries, with brief descriptions/blurbs of featured titles. Here's a (totally self-serving) example:
My idea is based on a technique that may or may not be unique to the excellent Powell's City of Books; rainbow shelftalkers, which they use to highlight books with queer content. They're colorful, eye-catching, and allow browsers to discover GLBTQ-themed titles serendipitously.
So why not do something similar with graphic novels that are interfiled with prose?
Here's an obvious iconic image: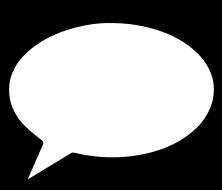 Write your description/blurb inside the word balloon. Use similarly-styled shelftalkers for your other graphic novels.
If you're pressed for time, they don't even have to be 'talkers' per se; use a smaller version of the same word-balloon icon simply to call attention to the presence of a graphic novel among prose books.
I know this doesn't answer the question of whether to shelve gns by the name of the writer or the artist, or what to do about the varying heights of graphic novels, but you are all very smart and awesome and no doubt have your own brilliant solutions.
(Is anybody out there already using this style of shelftalker? If so, send me a photo and I'll add to the post!)