Just back from a couple of writing-and-catching-up days with a friend. She lives far enough away from the city that it always feels like a retreat when I visit.
She's also notably non-obsessed with the Internet and pop culture, an excellent reminder for me that it's important to remain capable of having conversations that don't begin: "Did you see that YouTube video I tweeted earlier today? It's pretty great, yeah, I found it on some random Tumblr…"
Anyway, we had a fine, productive time, and decided to go out to celebrate said productivity. She made reservations at one of the fancier places in her neck of the woods.
(There actually are a lot of woods. I am not just using a hackneyed expression. See?)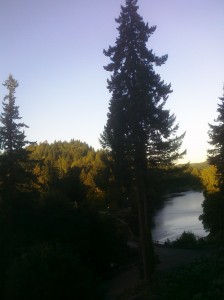 She said the food was very good, but warned me: "They filmed scenes from some really dumb movie there, so now there are all these signs and things."
"What movie?"
"Oh, I can't even remember. The scene descriptions on the signs, they make no sense!"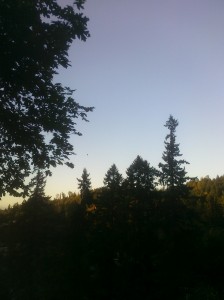 They seated us on the deck, and I took the photos above, and this one:
Have y'all figured it out?
Okay, here's one of the signs she was talking about: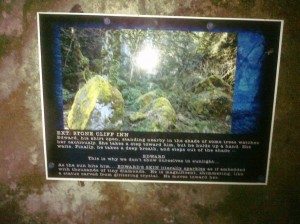 Type too small to read? Please, allow me:
EXT STONE CLIFF INN
Edward, his shirt open, standing nearby in the shade of some trees watches her cautiously. She takes a step toward him, but he holds up a hand. She waits. Finally, he takes a deep breath, and steps out of the shade —
EDWARD: This is why we don't show ourselves in sunlight.
As the sun hits him…EDWARD'S SKIN literally sparkles as if embedded with thousands of tiny diamonds. He is magnificent, shimmering, like a statue carved from glittering crystal. He moves toward her.
Yes. My small-town-living, non-Internet-junkie friend had managed to remain utterly oblivious to the Twilight phenomenon.
(I had to explain the Team Jacob shirt we saw at Goodwill, too.)