"If you're the kind of person who likes that sort of thing, it's the sort of thing you'd like."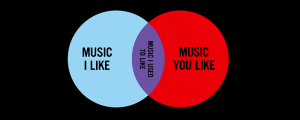 Though I'm a fan of clever Venn diagrams, I could not in good conscience wear the shirt with the above design.
I'm not a music geek. I'm relatively musically adventurous, but I tend not to actively seek out new and challenging music myself. I depend on the music obsessives among my acquaintance to reup my supply.
Part of me still — still — smarts from when thirteen-or-fourteen-year-old me asked the hipster behind the ticket counter at the student union (yes, I grew up in a college town) if I could get a ticket for an upcoming concert with "Elvis Costello and the Replacements."
He snickered. I blushed. I'd gotten it wrong. I didn't realize they were two different bands. I'd only just started listening to WCBN. (And the show the punks I admired kept talking about, the Hardcore Hour? I couldn't figure out when it was on.)
Anyway. That particular slice of my past is prologue for my reaction to Carl Wilson's funny, smart and generous book, "Let's Talk About Love: a journey to the end of taste." Wilson's project in the book is to investigate the music of Céline Dion — music to which he initially has a visceral negative reaction — to try to understand why the millions of people who love it love it so much.
He looks at her Québécoise background, traces the roots of her singing style, talks with fans. Along the way there are some endearing details. She was nice to Elliott Smith! She has a song about being friends with a gay boy! But as carefully as he researches Céline's life and music, the real point is, as the subtitle suggests, taste itself. How do we develop it? What causes us to feel so strongly positive or negative about particular singers, artists, writers?
While I read I was at times reminded of the work of another Canadian, Robertson Davies — specifically A Mixture of Frailties, his book about a working-class singer named Monica Gall who gets money to study abroad. Over the course of the book, Monica is educated in musical technique and, well, a certain type of taste, and there are times when she both resents and rebels against the transformation.
I also thought about one of the things Tim Powers told my Clarion class: Anyone on the bestseller list is doing something right.
And though I'm not knowledgable enough to qualify for music geekery, I definitely struggle with my own dismissive snob tendencies. I really enjoyed the entire book, but I especially appreciated Wilson's game efforts to pry open his own mind.