When I visit a place I like to pretend I live there.
From 9/25-10/2, I lived in Brooklyn — half the week in Carroll Gardens, half in South Slope. All this week, I'll be writing about last week.
On Saturday I took the train from the airport to Maker Faire, stashed my luggage in the Madagascar Institute tent courtesy of my friend Jess, and went straight to the Young Makers Pavilion where I encountered the Fe26 Maidens. I wrote about them over at theatlantic.com: Meet the Fe26 Maidens: an all-girl robotics team from the Bronx.
I also enjoyed the Life Size Mousetrap:
Spent Sunday at the Faire also, mostly around the Madagascar Institute's various enticing and potentially dangerous rides, alternating between taking pictures and holding my hands over my ears when they fired up the Jet Ponies:
(Video from Popular Mechanics, accompanying an article that explains the tech behind the ponies.)
The Chariot Races were an outstanding and chaotic spectacle:
My favorite vehicle in the Chariot Races was the Raven, though I liked to think of it as the Raven Bison due to its shaggy plumage. Here it is later in the evening, being put through its paces by Jess:
Post-Faire, we went to the Yard Dogs Roadshow. My favorite of the Dogs was Tobias the sword (and chair leg, and balloon) swallower. Too dark to get good photos on my phone, but Heather Byrd got a great set when the group performed in Nashville; here's one of hers: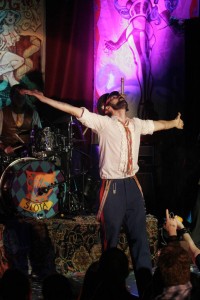 After that, a diner for quieter conversation and cheaper-than-the-previous-venue sustenance, and back to Jess's place at, hm, not sure exactly, but it was late. Setting one of the themes for the week.
Tomorrow: Food and clothing.