Today I received an Amazing Artifact.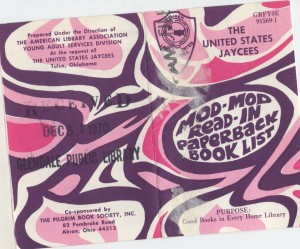 The Mod-Mod Read-In Paperback Book List was produced in 1970, under the auspices of the Young Adult Services Division, the precursor of the Young Adult Library Services Association. From the titles, it seems to be an ancestor of both Popular Paperbacks and Quick Picks. It was part of a project called "Operation Opportunity;" apparently the Jaycees' response to the Great Society.
Before I show you the titles, here's the promotional insert: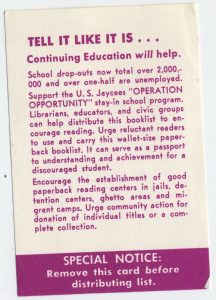 I can't help hearing this exhortation in the generic narrator voice from the Coronet Instructional Films.
I wonder if the Mod-Mod Read-In list made it to the "ghetto areas" and migrant camps its compilers hoped it would reach? And did any reluctant reader ever carry it in their wallet?
But enough about the trying-too-hard design and earnest message. How are the books?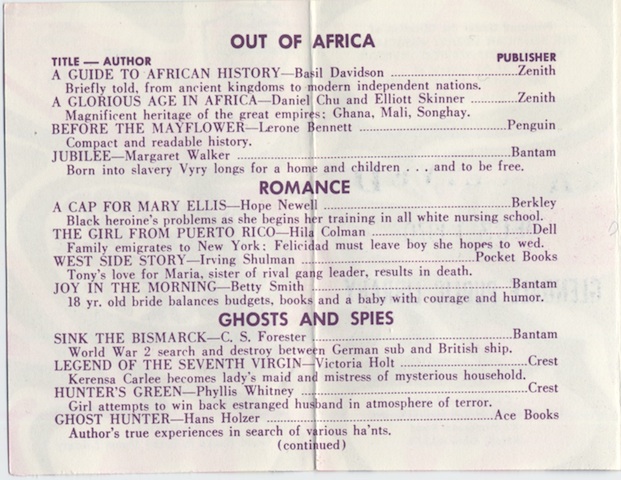 Basil Davidson, Elliott Skinner, Hope Newell, and Lerone Bennett all seem to have led very interesting lives. Margaret Walker's Jubilee is still in print (with a great cover!). Victoria Holt (aka Eleanor Hibbert, and her other pseudonyms) is still read and remembered with fondness. Hunter's Green concerns a chessboard of evil.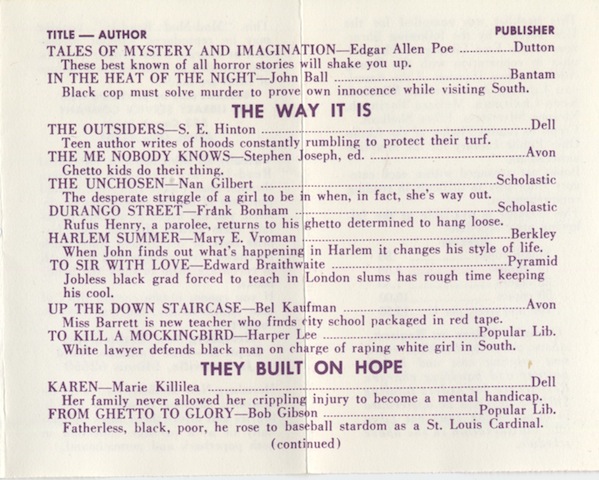 The Me Nobody Knows became a musical that's still being performed. Mary E. Vroman's use of Harlem Summer as a title predates Walter Dean Myers.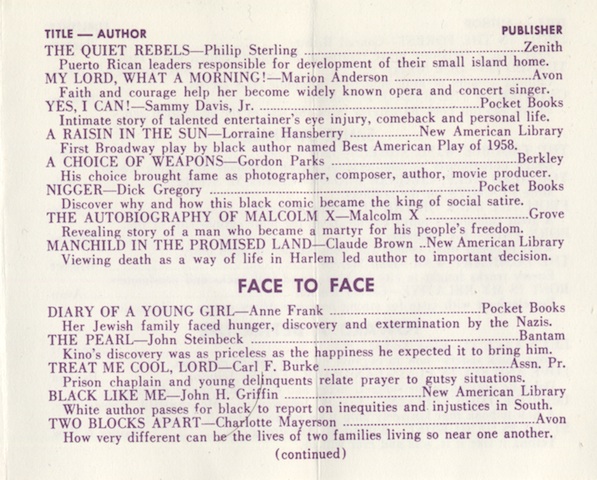 Philip Sterling was married to Dorothy Sterling; they're the parents of author and scholar Anne Fausto-Sterling. My Lord, What A Morning is named for the spiritual. Before publishing A Choice of Weapons, Gordon Parks came to Washington D.C. to work as a photographer on a fellowship from the Julius Rosenwald Fund; the fund, a friend explained, was "set up for exceptionally able spooks and white crackers." A few years after Choice of Weapons appeared, he directed Shaft. Carl F. Burke is also the author of God Is For Real, Man, which became an album that a kind soul has made available for download.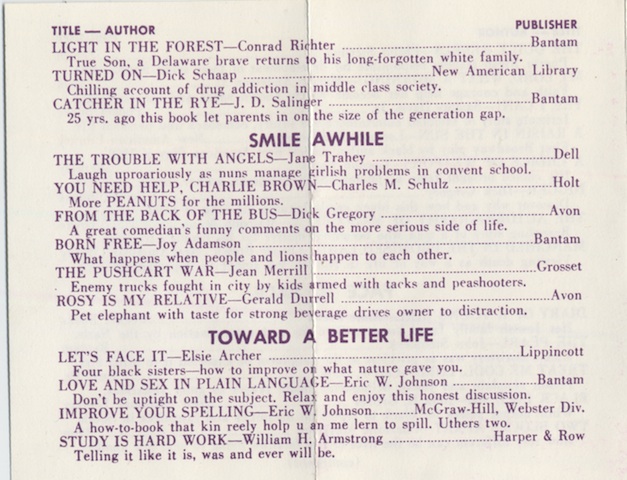 Light in the Forest became a film that Eric Brightwell names as an example of the Through Blue Eyes genre. Catcher in the Rye was already 25 years old. The Trouble With Angels became a film with Rosalind Russell, Hayley Mills, and a cute animated title sequence. Two Dick Gregory titles; he's still going strong. Rosy Is My Relative treats an elephant fond of alcohol; its author was, as well. Elsie Archer's Let's Face It was reviewed in The Crisis. I hope the Eric W. Johnson who wrote about improved spelling and plain language for love and sex is the same Eric W. Johnson who wrote more recently about cocktails. Interesting to learn that when William H. Armstrong wasn't writing about (spoiler!) dead dogs, he was concerned with the nation's study habits.
I'll end this linkfest by commenting that the Mod-Mod Read-In Paperback Book List is forty-one years old, and it contains more books by and about people of color than I've seen on many more recent lists. Diversity in YA and others, keep up the good fight.