Probably I should have an e-reader, but I don't yet. So I prepared for today's flight the old-fashioned way, by visiting the ever-excellent and economical Title Wave.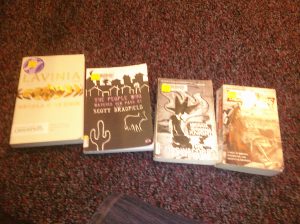 From left to right: Lavinia, Ursula K. LeGuin; The People Who Watched Her Pass By, Scott Bradfield; The Taqwacores, Michael Muhammad Knight; Blameless, Gail Carriger.
For a total of $3.
I may have more to say about these here, or not. One of the things I intend to do on the other end of this flight is hole up, however briefly, and write, dammit.