There were a lot of other things going on last night — I would've been at the Sister Spit event if I could've been in two places at once — so thanks to everyone who came to Beyond Judy Blume: Identity and Sexuality in YA Literature!
Links for some things that came up during the conversation:
Malinda Lo's post on the statistics of LGBTQ YA books published in the U.S.
Cooperative Children's Book Center statistics on Children's Books By And About People Of Color
Matt de la Peña's appearance at Tucson High after the state of Arizona ordered the school district to disband its Mexican-American Studies program
The Children's Book Council Diversity committee
And I think folks who came to the event would also find it worthwhile to read back through the posts & comments from
Colleen Mondor
's
What A Girl Wants
series.
Oh, and here's the cover of the book I wanted to show everyone but forgot to bring as an example of something I read as a teen that changed my understanding of youth identity and expression…kind of a cheesy cover, right?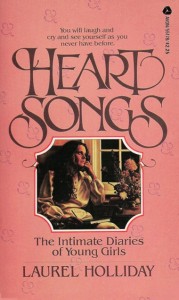 But it has vivid, passionate excerpts from the teenage diaries of Anaïs Nin, Maggie Owen Wadelton, Kathie Gray, Gretchen Lainer, Selma Lagerlöf, Marie Bashkirtseff, Nelly Ptaschkina, Mathilde von Buddenbroch, and Benoîte and Flora Groult — several of whom grew up to be noted writers.