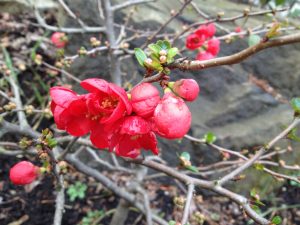 It is kind of springlike around these parts.
I returned from elsewhere, also known as Salt Lake City, where I was fortunate enough to enjoy the hospitality of Ms. Sara Zarr. We recorded an episode of her This Creative Life podcast which you might like to hear. I met a whole bunch of other nifty SLC authors.
I also wrote quite a lot of words, for me.
Of course as soon as I got back the usual deluge of domestic tasks and dayjobbery descended and it became, unsurprisingly, more difficult to write lots of words every day. (Although I've managed some words every day, and I have, indeed, not broken the chain.)
Today I'd been feeling cranky and out of sorts about this relative lack of words, and how slowly the writing was going, and my chronic inability to estimate how long any particular writing project will take. I needed to write more, but it was time to go to yoga, and I'd missed several classes while I'd been away, so I went.
And the teacher talked about the importance of showing up. How some days the practice will be effortless and sweet, and others it will seem like nothing works and you can't get yourself where you're supposed to be, and everyone else is more flexible, and what you're doing is totally not worth it. But that it's always worth it, even when — maybe especially when — it feels like it isn't. Effort, sustained over time, she said, can make great change.