I didn't know a lot about Sirens when I made my reservation several months back.
I mean, sure, some of the books that were most formative for me as a reader and writer are fantasy, and yes, they're by women authors, and so the notion of a gathering honoring women in fantasy literature did, in fact, resonate.
But I decided to go mostly because friends were going to be there and it was an easy drive.
What I thought I'd get: some time with said friends, in a setting that makes me feel smug about living in the Pacific Northwest.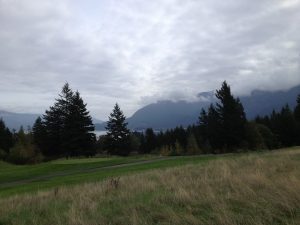 What I actually got:Â That.
Plus provocative, passionate, just flat-out smart presentations by the guests of honor, thoughtful and intense conversations both inside and outside of the official programming, new friends, a vastly expanded to-read list, and twenty-four pages of notes in the notebook I cadged from the dermatologists' conference just down the hall. I'll spare you a complete transcription of said notes, but here are Seven Things I Wrote Down (and I hope I remembered the correct attributions for the quotes):
And yes, I'm planning to go next year.