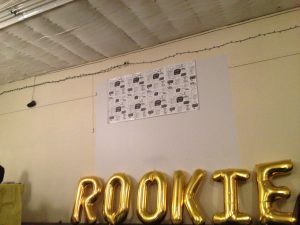 Last night I went with a friend to the Rookie Yearbook Two event sponsored by Reading Frenzy, held at the Q Center. We arrived early enough to help set up chairs and observe the process of the excellent letter balloons getting inflated via bicycle pump. I cannot tell you for sure but I bet the balloons were this kind. They added a fine shiny festive quality to the stage.
There were a lot of people. This isn't even everybody.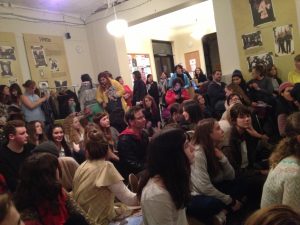 If you are unfamiliar with Rookie you may be wondering what exactly brought out this crowd. Rookie is a magazine for teenage girls that is okay with people who do not fit that demographic enjoying it too. The interviews are particularly good; try, for instance, The World Is Bound With Secret Knots and Girls With Power and Mystique.
Rookie has many contributors, but its driving force is founder and editor in chief Tavi Gevinson. Gevinson's sensibility — curious, smart, and much more interested in appreciating than in denigrating — informs the magazine.
I've been following Gevinson's work since the early days of her style rookie blog, and it was very cool both to see her and to see the crowd seeing her.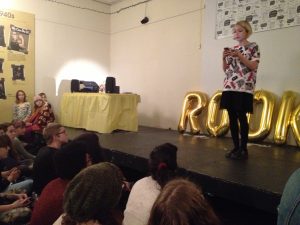 She read on her phone from what will be the December Rookie editor's letter on the theme of Forever, and then took questions for a while. Yes, she's going to college — she's applying now. No, she doesn't know what her major's going to be. She regretted her inability to make a judgment call on birthday cake Oreos. Rookie behind-the-scenes involves but is not limited to long email chains, a private Facebook group and Skype sessions. To the girl who asked about finding similarly-minded friends, she recommended "everyone in this room. You have one thing in common already, right?"
Indeed.