Bad Houses finds readers outside its target demographic,* is reviewed along with several excellent titles from Portland creators in the Mercury with a memorable headline, and makes the iBooks Best of 2013 Comics & Graphic Novels list (warning: that link will attempt to open iTunes). So I felt compelled to document via screenshot: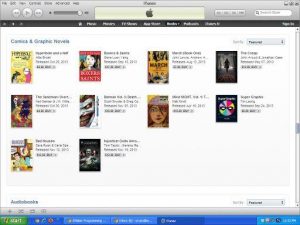 N.B. If you're looking for it inside iTunes/iBooks, you'll have to scroll past several other categories, but trust me, it's there!
And the event: I'll be at Cosmic Monkey Comics from 12-2 on Saturday 12/21 along with several other folks, happy to sign copies of Bad Houses for you, your loved ones, and/or any hoarder friends you want to passive-aggressively troll.
* I do not actually recommend giving the book to small children, nor does my friend who sent the photos. But they're pretty darned cute, aren't they?