I'm the daughter of two librarians. I internalized early on that whenever I wanted to know more about a word or person or event, the appropriate response was to Look It Up: find the definition, biography, historical & cultural context.
Whether or not I actually did Look It Up was an indication of how interested I really was. If my curiosity was merely idle, I'd drop the topic. But more often than not, the connections I made kept me going. (And yes, I love the James Burke series Connections.)
So I thought I'd start a series here of some of the connections I'm currently making. Each one will cover a few links in a chain of associations. Starting and stopping points will be somewhat arbitrary to keep the posts from getting too unwieldy. Here we go!
1. I read Stephen Burt's essay on George Eliot at Essay Daily. I hadn't known the site before. Since I both enjoy reading essays and want to get better at writing them, I added Essay Daily to my feed reader.
2. At Essay Daily I read Ryan Van Meter's essay on endings which mentions a children's book called A Really Weird Summer. Any time someone who is not themselves involved in writing children's or YA literature references it, it piques my curiosity. Especially if, as was the case here, no contempt or oversweet nostalgia accompanies the reference. Plus, the author's name seemed familiar.
3. So I checked out & read A Really Weird Summer by Eloise McGraw, whose name, it turns out, was familiar because the Oregon Book Awards for children's literature are named for her. As I read I thought a lot about the book's tone. There's the real-world hardship of the kids' parents' in-progress divorce, their being shipped off to live with distant relatives for the summer, Nels' tremendous sense of responsibility for his younger siblings and equal amount of resentment that the responsibility has been foisted onto him, juxtaposed with the secret room that Nels discovers, and the lure of its secret inhabitants.
4. I was struck by the ominous front cover and the very trippy back cover; those images, in combination with the tone, were reminding me of something I couldn't quite immediately place. I decided to research the illustrator.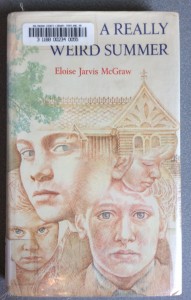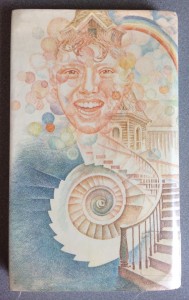 5. The illustrator is Allen Davis. As soon as I saw a few more examples of his cover design style, I remembered what A Really Weird Summer made me think of: the books that Suzy Bishop carries in Wes Anderson's Moonrise Kingdom.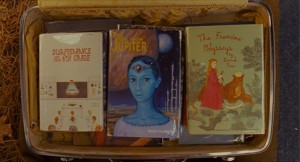 Those books, which don't actually exist, are inspired by books from the 1960s and 70s, the era when A Really Weird Summer was published.
One last link: as I was writing this post, a friend tweeted at me about an essay he was reading involving mixtapes, bargain bins, Upper Michigan, and tree roots, which reminded him of some of what I was writing about in Bad Houses. 
Taking us full circle, the essay was by Ander Monson, who coordinates Essay Daily.