I had a great time teaching comics writing workshops for kids & teens at Columbus Metropolitan Library! Here's the group at the Franklinton branch as we're looking at Carla Speed McNeil's pencils and inks for a wordless page from Bad Houses, to show that we need to write scripts even for scenes where no one's talking: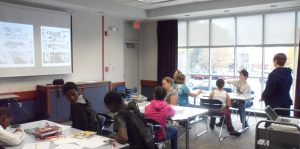 You know what else we need? Diverse books. If you haven't contributed to the Indiegogo campaign yet, what are you waiting for?
A little background: "diverse books," like "graphic novels," is a phrase that may not seem especially resonant if you haven't been immersed in the circles where it's in common usage. "Diverse books" is shorthand for books by and about people who've been marginalized — whose stories haven't had the opportunity to occupy much, if any, bookstore and library shelf space — and We Need Diverse Books is a grassroots organization created to address the lack of diverse, non-majority narratives in children's literature. It's important work. Help make it happen.
Speaking of diverse books and encouraging writers from marginalized communities, I'm really proud to say that I'll be the Genre Fiction instructor for the Lambda Literary Foundation's Retreat for Emerging LGBTQ Voices next summer! I'll be focusing on YA and comics writing. Apply!
Finally, very soon, I'm going to Austin for YALSA's YA Literature Symposium to be on a panel with Sara Zarr, Coe Booth, Jo Knowles & Matt de la Peña on YA Realness: what makes 'contemporary realism' feel true to readers? I look forward to seeing some of you there!