I just got back from YALSA's YA Literature Symposium. Although this photo is from a few weeks ago and today I'm wearing a different hoodie, me and the cat are in a similar position as I type this.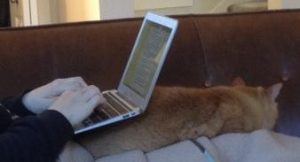 Here are a few things I saw while wandering Austin: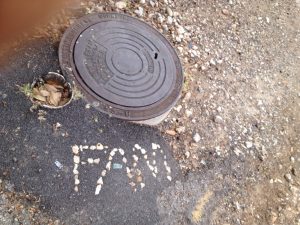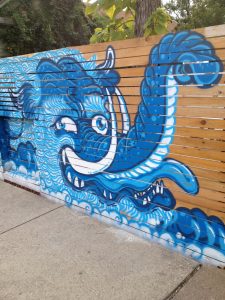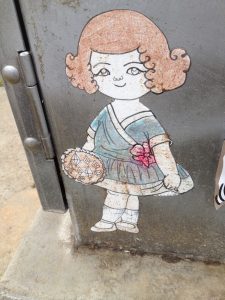 I really enjoyed being part of the "YA Realness: what makes 'contemporary realism' feel true to readers?" panel with Matt de la Peña, Coe Booth, Jo Knowles, and Sara Zarr.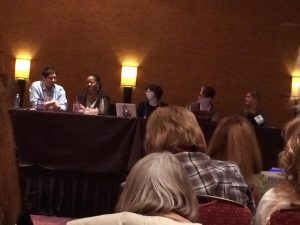 (photo by Kim Johnson Dare, found via Facebook.)
We didn't have a moderator, just asked questions of each other, and I liked operating that way; it felt more like we were having the kind of conversation that usually happens outside of official conference sessions, in the hallway or a restaurant or the hotel lobby late at night.
I had many of those latter kinds of conversations too, and I was often reminded of a post I wrote a few years back, "Shapeshifting," about how the role someone has when you first meet them — how they're described, or describe themselves, when you're introduced — is almost certainly not either a. the only role they occupy or b. the one they'll be in when you meet them again.
Here are before/after pictures of my table at the Book Blitz, an event during which authors are set up at tables with big stacks of their books. Attendees get a small number of tickets that they then 'spend' to acquire copies of said books (generously donated by our publishers).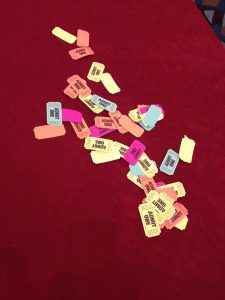 It was pretty chaotic but in a lovely way. Kudos to the folks responsible for merchandising the books. That curving stack of copies of Bad Houses was merely one among many examples of niftily displayed titles.
Since you're reading this post I bet you will also find the handouts from GenreQueer: Exploding the Closet and Who gets to tell our stories? Authentic portrayals of Trans* Youth in YA Fiction relevant to your interests.
And a few books I'm reading either directly or indirectly because of the symposium: The Devil's Highway by Luis Alberto Urrea, Swati Avasthi's Chasing Shadows, S. Bear Bergman's The Nearest Exit May Be Behind You, & Kekla Magoon's How It Went Down.