So, I do intend to write about my experience as the Genre Fiction instructor for the Lambda Literary Retreat for Emerging LGBTQ Voices, which was amazing, and not just because of this delightful coffee mug: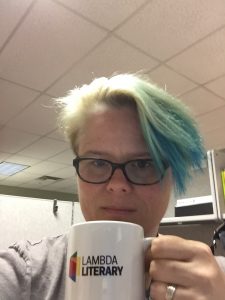 But now I want to tell you what I'm doing at Comic-Con!
I'm a Featured Guest, I'll be at II-10 in Artist's Alley  and I'm on two panels:
Historical Comics and Graphic Novels: Thursday, July 9th, 1 PM
Not all comics are about superheroes. In fact, there are some amazing graphic novels, comics and web comics that deal with events from history. Some are personal stories, some are historical accounts and some are the creator's own take, but they all bring history alive. Creators Peter Bagge (Hate, Woman Rebel: The Margaret Sanger Story), Ed Piskor (Hip-Hop Family Tree), Matt Phelan (The Storm in the Barn), Sara Ryan (Escape From Alcatraz), and Lora Innes (The Dreamer), discuss their historical works with moderator Douglas Wolk (Reading Comics).
Normalizing Publishing: Sunday, July 12th, noon
Shonda Rhimes famously said that she's not "'diversifying' TV, she's normalizing it: "Making it look like the world looks." Join Sara Ryan (Bad Houses, Lambda Literary Emerging LGBTQ Writers Retreat instructor), Nilah Magruder (M.F.K., Dwayne McDuffie Award for Diversity recipient), Nicola Yoon (Everything Everything, We Need Diverse Books team member), Cindy Pon (Serpentine, We Need Diverse Books advisory committee, Diversity in YA co-founder), and Greg van Eekhout (California Bones, The Boy at the End of the World) discuss how this normalizing is, and isn't, happening and what we can all do to promote inclusive storytelling.
I'm looking forward to both of them, but I'm particularly excited about the second one. See, as a guest, I get a "spotlight panel", which means that basically I can do whatever I want for fifty minutes.
I decided what I wanted was to share the stage with smart interesting people and talk about stuff that matters.
See you in San Diego!