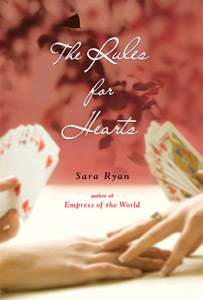 Battle Hall Davies is sure of some things: she's going to Reed; she loves girls; and her older brother, Nick, is cooler than she could ever be. Nick ran away when Battle was in high school, and four years later, he's tracked her down. Now she's spending her summer before college in "Forest House," the co-op where he lives in Portland. Battle is quickly swept into Forest House's community Shakespeare production, its all-night card games, and the arms of her new roommate, Meryl. It turns out that Nick isn't who Battle thought he was–and Battle's not who she thought she was, either.
Rules is an Oregon Book Award winner and Junior Library Guild selection. It is a companion book to Empress of the World.
Edited by Sharyn November
Young Adult Fiction
222 pages
Hardcover, 2007, Viking Books, ISBN: 0670059064
Paperback, 2009, Speak, ISBN: 0142412376
Excerpt:
It's bingo night. My brother Nick and I are in the youth room next to the social hall, playing Hearts. We always play Hearts on bingo night.

Dad used to be an actor, so he never needs a microphone, whether he's preaching or calling the numbers. We hear him boom: "O-69!"

We crack up.

Nick is sixteen, I'm thirteen, and he's my favorite person. He's smarter and funnier and more charming than anyone. He teaches me card tricks and dirty jokes. He says that everyone except me is a hypocrite, especially Mom and Dad. He knows the best music, the best places to go, and he hardly ever complains about his tagalong little sister.

Three weeks later, on his seventeenth birthday, he runs away.
Reviews:
"Ryan does a wonderful job of portraying a group of creative young people with limited finances, fluid sexuality, and complicated relationships. This novel celebrates the process of becoming an adult without providing any easy answers." –School Library Journal
"…Ryan memorably captures an older teen's tumultuous first summer of independence. …the artsy, ensemble cast is memorable, and both gay and straight relationships are described with refreshing honesty." –Booklist
"[Battle's] journey of maturation has a blend of authenticity and appealing glamour that will continue to make readers believe they could be in her place and wish that they were." –Bulletin of the Center for Children's Books