Finally, I can tell you all some news I've been wanting to share for a long time.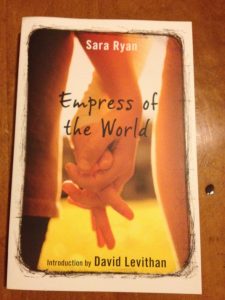 If you're thinking: Hmm, that copy of Empress looks a little different. More…substantial, somehow…
I must congratulate you on your keen perceptive eye.
The book has been reissued, and it now includes:
A lovely introduction by David Levithan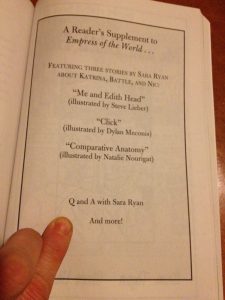 Not one, not two, but THREE short stories featuring characters from the book:
the Eisner-nominated "Me and Edith Head," with art by Steve Lieber, about Katrina Lansdale, which takes place before Empress happens
"Click," with art by Dylan Meconis, about Battle Hall Davies, which takes place between the events of Empress and The Rules for Hearts
and the brand-new, never-before-published "Comparative Anatomy," with art by Natalie Nourigat, about Nicola Lancaster, which takes place after the events of both novels
Plus a Q & A with me, a recommended booklist,  an exercise in musical archaeology wherein I construct a playlist based on my vague memories of what the heck I was listening to when I was writing Empress, and a preview of the companion book, The Rules for Hearts.
This new edition, with all the super-cool new material, only exists because fabulous people like you have been supporting my work for more than a decade. I'm so honored that my books are still finding new readers, and I'm thrilled that the Now-With-Way-More-Stuff-In-It version of Empress is out in the world!